In the early 1990

s,

William Rau started restoring Rolls-Royce wood trim, following a career as a musical instrument builder. He started the company, Rau Automotive Woodwork, and soon it became the go to company for restoration of wood for prestigious show vehicles. 
Rau's work has been in vehicles that have gone on to win Best of Show at the Pebble Beach Concours, Louis Vuitton Concours, and awards at numerous other events.
This success didn't go un-noticed, as Rau became a wood repair facility for Rolls-Royce & Bentley dealers in the US & Canada and later, a supplier to Tesla Motors.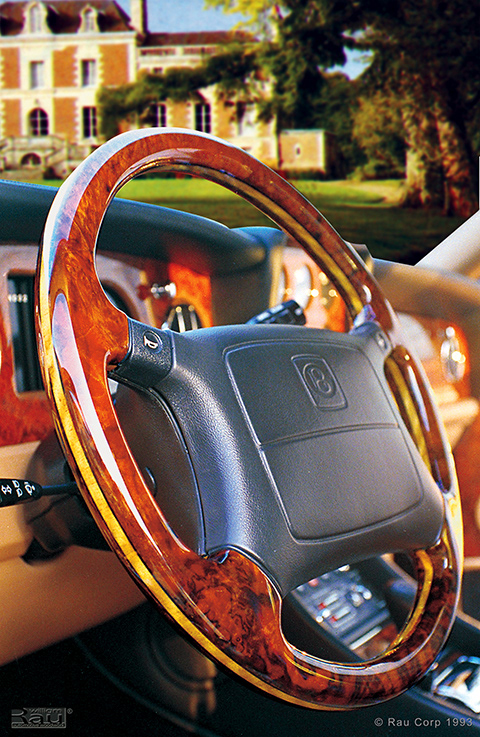 One day, a customer with a new Bentley Continental R showed up at our facility and said he wanted a wood steering wheel to match his sumptuous burl interior. 
He had even purchased an extra wheel for us to modify.
After giving it some thought, we produced samples and the project was on. 
Since that 1st Bentley steering wheel, we have built a few thousand custom steering wheels in wood & carbon fiber, dating from a 1913 Packard to a 2020 Bentley GTC.
The wood species have included the familiar walnut burl and the not so familiar, amboyna burl, bocote, sapele, curly bubinga, makore crotch and more.
A steering wheel to an enthusiast is one of the more personal elements of the automotive experience. The visual qualities of a wheel help to define and enhance the driving experience. However, many factory wheels come up short on visual appeal and personalization.
Before the release of the Model S, we sent a portfolio of our varied work to Franz von Holzhausen, head of design for Tesla. After a few discussions with their design team, we were asked to veneer and finish some initial prototype parts for the Model S center console. After these evolved through a few iterations, we were invited to produce the parts for the production models. This grew into production for two additional parts. 
In all, we produced 50k parts for Tesla, transforming from a custom shop to a production facility.