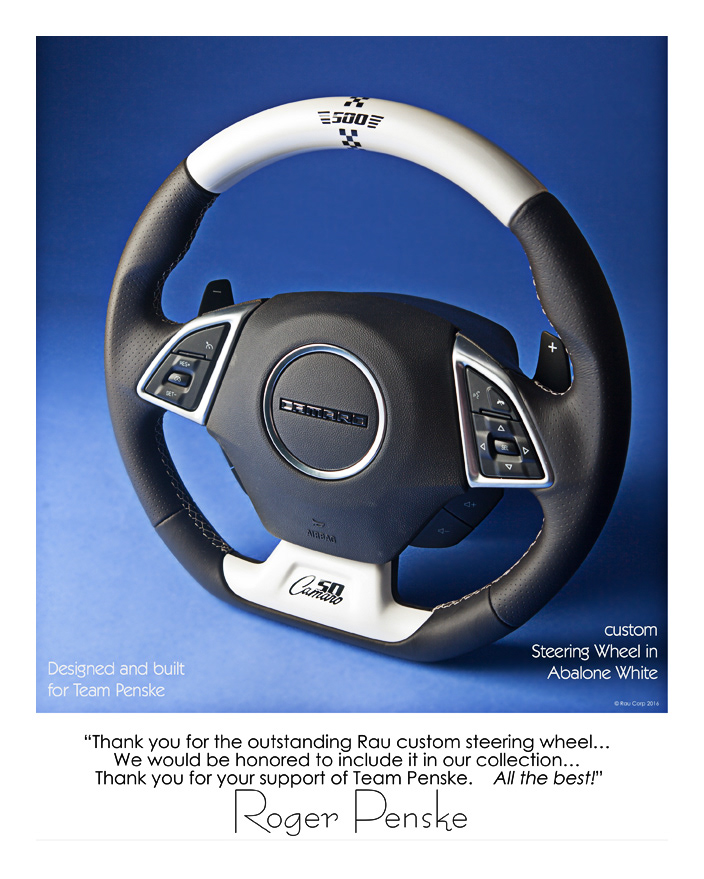 "Thank you for the outstanding Rau custom steering wheel… We would be honored to include it in our collection… Thank you for your support of Team Penske. All the best!"
"I can say unequivocally that you and your workshop do phenomenal work and that every client we have done your steering wheels with is exceptionally happy with your products. You can publish the line above as this is an absolute endorsement of you and your company!
Tim O'Hara
General Manager-Premier Clients
Rolls-Royce Motor Cars Beverly Hills
Thank you very much for sharing your glory and pride. We feel the same way as you do. Thank you for your great work of supporting Tesla. We are happy and proud of working with Rau
"...I also sold my '84 Silver Spur. Got a price way over anything I've seen sold in the last year. The buyer fell in love with your steering wheel and had to have the car! It really did make that car special."
"I would like to begin by stating that we are very pleased with the work performed and will look forward to establishing a long-term relationship after seeing the quality of this repair being to the highest standard."
- Bentley Service Manager
"...The timber one looks superb and I am so delighted with it. I guess you are used to accolades, ....Thank you so much once again for your excellent workmanship, friendly attentions, professionalism and truly great product I will enjoy for years to come"
T  I received a call from my Mercedes rep today and they have installed the wheel...
 My rep said the wheel is absolutely gorgeous.  He actually said it looks better than the Mercedes Burl/Walnut wheel on the E-Class!
It is a pleasant surprise to hear you came in under budget and passed the savings on to us.  I appreciate your honesty and integrity.